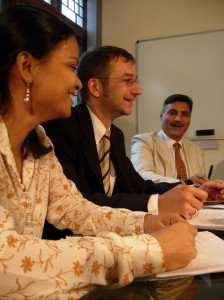 Vimarsh Development Solutions is a development consulting organisation established in 1987 and headquartered in Delhi (NCR). We operate across India through our regional offices in Mumbai, Bangalore, Kolkata, Shimla, Bhopal, Amritsar, Lucknow and a wide network of partner agencies. We provide services for management and implementation of projects related to health, rural development, livelihood & poverty alleviation, elementary education, nutrition, natural resource management, water & sanitation and micro-enterprise development.
Our Vision: To be a Leading Multi-Dimensional Resource Organisation Partnering in Transformation with Client Organisations to Provide Turnkey Development Solutions, for the Public, Private and Voluntary Sectors.
Vimarsh is staffed with full-time core strength of 30 professionals and 600 project staff covering various areas of specialization like health, demography, statistics, nutrition, economics, qualitative and quantitative research, human resource development and capacity building, procurement and supply chain management, financial management, among others. Supplementing the core staff, Vimarsh has access to over 1000 empanelled short-term experts from different areas of specialization. We have also developed linkages with a network of organizations spread in several states of the country for project implementation at the local level.  Our work philosophy is to seek solutions based on an integrated and participatory approach involving key players.  We consistently strive to achieve complete neutrality in professional consulting and project implementation.
Over the years we have developed expertise in qualitative and quantitative research, project planning & management, institutional development, monitoring & evaluation, human resource development & capacity building at different levels. Vimarsh has completed over 250 projects in nearly all states of the country for organizations like USAID, DFID, UNICEF, UNDP, ILO, GIZ, EC, World Bank and Kfw. We have in depth experience of working in coordination with various Ministries and Departments of Government of India and several State Governments and Departments.
Know More