Vimarsh Conducts Survey on Consumer Safety Issues Under Consumers Up 2 Project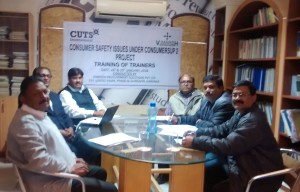 Vimarsh has been assigned the task by Consumer Unity & Trust Society (CUTS) which is supported by Department of Consumer Affairs, Ministry of Consumer Affairs, Food & Public Distribution, Government of India to carry out a survey on consumer safety issues under the "ConsumersUp 2" Project in 12 districts of 6 states of India namely Madhya Pradesh, Uttar Pradesh, Rajasthan, Assam, West Bengal and Tamil Nadu.
The overall objective of the study is to enhance consumer safety in India and promotion of consumer interest contributing towards the national interest. Under the project the main activity is to conduct comprehensive research on the state of consumers' safety in selected sectors and come up with a research report on the 'State of the Consumer Safety Report'. The sectors covered include Energy, Transport, Housing, Public Amusement and Health.